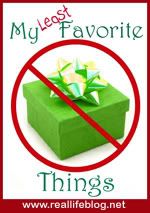 This carnival is not for all the wonderful things you've found for gifts. I want to hear about all the useless, ear-splitting, messy… insert negative adjective here… gifts that you will warn us about. This is a "what NOT to give" carnival.
As I was brainstorming for this post, and trying to think of bad Christmas gifts I've received, I realized I am pretty blessed. I usually receive great gifts. It's not really about the "stuff," but you can tell when someone has put a lot of thought into a gift, and it means something. Especially for someone like my daughter, whose primary love language is gift-giving.
So here is my story:
Every year, at the family get-together, we play a gift-exchange game. The one where each person picks a number, and you can take a random gift from the center, or steal someone else's. If your gift gets stolen, you get to choose again. It's usually really fun. I put a lot of thought into my gift, putting together some gift baskets with yummy goodies that I thought anyone might like. So imagine my surprise when I opened…
A pair of MOP SLIPPERS and a Swiffer duster!!! Not that these things are bad in and of themselves, but I just don't want them for Christmas! Of course, no matter how hard I tried to persuade them, no one wanted to steal my gift. That was second to the year I got stuck with a sink strainer!

NOTE: Never, I mean NEVER give anyone cleaning supplies for Christmas! If you follow this rule of thumb, you will avoid a lot of disappointed recipients.
I posted this question on a really neat moms' forum of which I'm a member, called The Mommies Network. It's made up of local moms, who also get together for playgroups and Mom's Night Out. Check it out, they may have a group close to you! Anyway, they had some really awful stories!
Erin said: "One year my crazy brother gave my husband and I glow in the dark h*ndc*ffs and a game called ad*lt tr*via. That was the year that he went to Sp*ncer's at the last minute and bought everyone's gifts. My sister got inflatable b**bs that year. Needless to say, we never used those presents and re-gifted them to our friends who had a couples shower before they got married. It was much funnier giving them than receiving them!!!"
NOTE: No…um… personal items under the tree, please!


Lessa said: "Lady Stetson perfume…….. nuff said." When I asked her if I could use this, she said, "I don't mind. All men need to know that no woman deserves stinky perfume!"
NOTE: Never buy a woman perfume unless you KNOW she already wears it.
Holly said: "We got one of those fart machines from my crazy brother one year. Everytime someone would go get a gift under the tree, he would press it! We were all thinking…'What did we all eat that gave us such gas?' LOL!"
NOTE: Bodily function imitators are not gift-giving material. Does everyone have a crazy brother?


Last, but certainly not least, Christina said: "This wasn't for me, but my best friend got a stuffed cat (like taxidermy looking) for Christmas one year."
NOTE: Most people don't like to put preserved animals on the mantle unless they hunted it.

OK, so tell us about your least favorite things! Add the link to your specific "Least Favorite Things" post, then link back to this post! (Directions are at the end of this post)

The Mr. Linky disappeared when I changed my design. I'll try to get it back.