My children ask:
"What are we having for dinner tonight, mom? Not green beans AGAIN?!"
Some children ask:
"Are we having dinner tonight? It's OK, I can wait till school tomorrow."
My children ask:
"Should I wear my dark jeans or light ones with this shirt?"
Some children ask:
"What will we do when my one pair of jeans wears out?"
I could go on with questions like these, that children less fortunate than mine ask.  As a parent, it feels good to know I can provide for my children's needs.  Maybe not their every want, but they do not worry about food, shelter or clothing.  And that's more than we can say for many kids in Haiti.
This tiny country has been hit by multiple natural disasters in the past year. As we sit in our cozy homes here in the US, our hearts must go out to families in Haiti whose entire livelihood has been destroyed.  And for me, it's gotta be more than just my heart.  If there is something I can do to help some of these families out of the pit of disaster and poverty, I want to go for it.
So that is why I'm participating with the Blogrollers, Christie (The Chatterbox) and Lorraine (Ask Wifey), and some fabulous bloggers, in the Macy's Heart of Haiti program. Heart of Haiti is different than many other charity programs, and it's something that strikes deep in my heart!  While giving of our goods and money is a great thing to do, I keep coming back to the old saying,
If you give a man a fish, he'll eat for a day.  But if you teach a man to fish, he'll eat for a lifetime.
And I would add, "He can have the dignity and self-empowerment of providing for himself and his (or her) family." There are many artisans in Haiti, making beautiful, unique products. They use recycled oil drums, wrought iron, paper mache, and stone.  They hand craft these artful and utilitarian items to sell.  They don't want a handout, they want to share their handiwork with the world!
Macy's has partnered with Fairwinds Trading to make these extraordinary pieces available for purchase worldwide. Their motto is "Trade, not Aid." If you follow me on Twitter, you'll know that I am a bit of a libertarian.  So this fits perfectly with my philosophy of helping people help themselves.  I believe if we have the blessing of being independent, not having to rely on government or charity for our well-being, we have the responsibility to reach out our hand and bring others up with us!
So that's what happens when we make a purchase from Heart of Haiti at Macy's. We empower another human being to survive, even to thrive.  I'm really excited to give some of these items to friends and family this Christmas, and share the story with them, as well.
In the next few weeks, I'll be sharing more about Heart of Haiti- the artisans, the products, the visionaries behind the program, and the results!   Will you join me as we explore the Heart of Haiti?
Here's how you can get involved right now:
Willa Shalit on Twitter (Fair Winds Trading)
Purchase Heart of Haiti Products at Macy's
We'll be tweeting with the hashtag #HeartofHaiti, so you can follow all the latest news and share your thoughts about the project, products or people!
Grab a badge, if you'd like!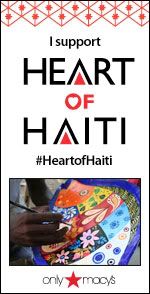 Disclosure: As a part of the Heart of Haiti Ambassador Team, I will receive a gift card and some of the Heart of Haiti products to test and show everyone.  The bottom line is that I believe in the philosophy behind the project, and I want to help!